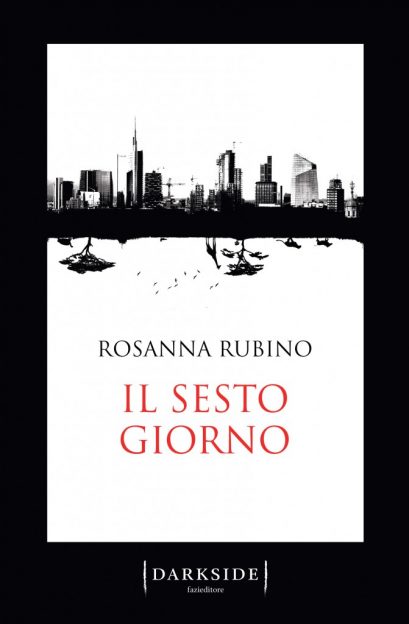 THE SIXTH DAY
-
Novel
Genre noir
Fazi Publisher
Darkside
17 March 2016
Click here to read the synopsis ›
"A child born in the rubbish can only become an emperor."
Milan, today. The only Italian citizen ever nominated Man of the Year by Times magazine, Ronnie Rosso is a thirty-five Nigerian born with the body of an athlete. He was an orphan when he arrived in Italy alone, at the age of twelve, on a boat boarded in Tripoli after a long journey across the desert: he is now the perfect picture of the self-made man. Lonely and bashful, he built his empire starting from nothing, achieving in the last ten years a two billion dollar fortune and the reputation of a cold tycoon devoted to business.
Ronnie is the founder and CEO of Talentik.com, a global platform of audio sharing, one of the most visited website in the world after Facebook, Google, YouTube, Baidu, Alibaba and Yahoo. Talentik will debut on Piazza Affari, the Milan Stock Exchange, in five days, making Ronnie one of the richest men in the planet.
The Sixth Day is the story of his life.
The narration follows Ronnie during the five days which precede his company's IPO, while the Italian government struggles through the ongoing financial crunch, and the "Protest of the pigs" spreads across the country with protesters waving pig-shaped puppets all over the streets. At the beginning of the novel Ronnie meets "A guy", a young squatter, an aspiring journalist who occasionally writes for the Rolling Stone magazine, and decides to tell him his unbelievable story. How did Ronnie get to that point? And why he ends up telling him the secret he's been hiding for the past 23 years?
The Sixth Day is a novel which combines real and imaginary elements to tell a story that seems constantly hanging between everything and nothing. There is always something which is supposed to happen, nevertheless nothing really moves, except in Ronnie's mind, and each moment vanishes in a lazy paralysis leaving behind a wake of uneasiness.